Wednesday, January 23, 2008, 06:25 PM -
Models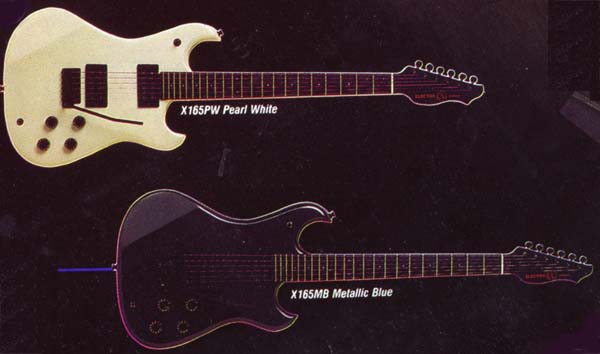 Bolt neck double cutaway with maple body, maple neck, rosewood fingerboard, black hardware, graphite nut and tekglide (vintage style) bridge, two humbuckers with four knobs (V-V-T-T) with pull-switches for coil tap and phase reverse.
X165PW (H-H)(pearl white)
X165MB (H-H)(metallic blue)
X165GR (H-H)(metallic olive green)
The X165 appeared in 1983 to replace the X130 with updated colors and a tremolo bridge. EVH was just appearing, and suddenly everyone wanted a guitar with a whammy bar, you couldnít sell one without one, even though most people couldnít do that much with it. The X165 was the first appearance of black hardware which became mostly standard throughout the line- very 80ís.
Back
Next