Wednesday, January 23, 2008, 06:15 PM -
Models
Bolt neck double cutaway with laminated ash, maple and walnut strip body, maple neck, chrome hardware, brass nut, brass hardtail bridge and dual humbuckers with toggle switches for coil tap and phase reverse, brass knobs for volume, preamp gain, and tone control.
When the Electra Phoenix first appeared in late 1980, there were the standard 2- and 3-pickup models with pickguards, and there was also a deluxe model with a body of dark brown ash with laminated strips of maple and walnut at the center. No doubt one of these would be ordered as premium display attractors but the lower priced models were what sold the most.
The laminated body follows the identical stripe pattern with many other Matsumoku-made guitars of the time, including the Aria Pro, Westone, Washburn and Skylark models.
Ironically, the laminated body is sometimes mistaken for an imitation of a neck-through guitar, which it is not. Excellent bolt-neck that it is, it need not pretend. Matsumoku had raised the art of making composite chunks of hardwood out of smaller to a fine degree, and these laminated bodies are made with all the care and attention of a flagship model.
In addition to its beautiful body, the X150 also sported a most exotic feature for the time: onboard active EQ. The third toggle switch turned on the EQ; when this was on the middle knob boosted the output, and the third knob would had a center detent and would boost treble when turned clockwise and bass when turned counterclockwise. When EQ was off, the tone knob worked like a conventional tone knob.
Was active EQ really a useful feature? Gibson had asked the same question with the Artist series, which it doomed by associating with the strange and unpopular RD series. It can be useful for some players- certainly a preamp is one way of shaping distortion. But for distortion you want to boost midtones, not high and low. Active EQ tends to be most useful for players who use clean tones, especially those who, like electric acoustic players, tend to be plugging into weird PA systems not designed for guitar, or in weird room situations.
Today we have to remember that making effect devices easily available to consumers was a fairly new innovation. There were some hairy fuzz pedals, and wahs, and giants like Hendrix and Page had them, but there was not the plethora of devices we have today. So having active EQ onboard, like the MPC guitars which carried onboard effects, was a really interesting experimental way to apply the electronics. It was a different direction than we see today, one which certainly put controls at the usersí fingertips. The question remains whether the average player really wants that much control.
The X150 is one of the finest of the Electra Phoenix family, its exotic wiring and excellent tone matched by the fact that flagship models, especially in the early 80ís, seemed to have been given extra hands-on attention, their lines and setup are generally especially good among the Phoenixes.
From the 1981 pricelist: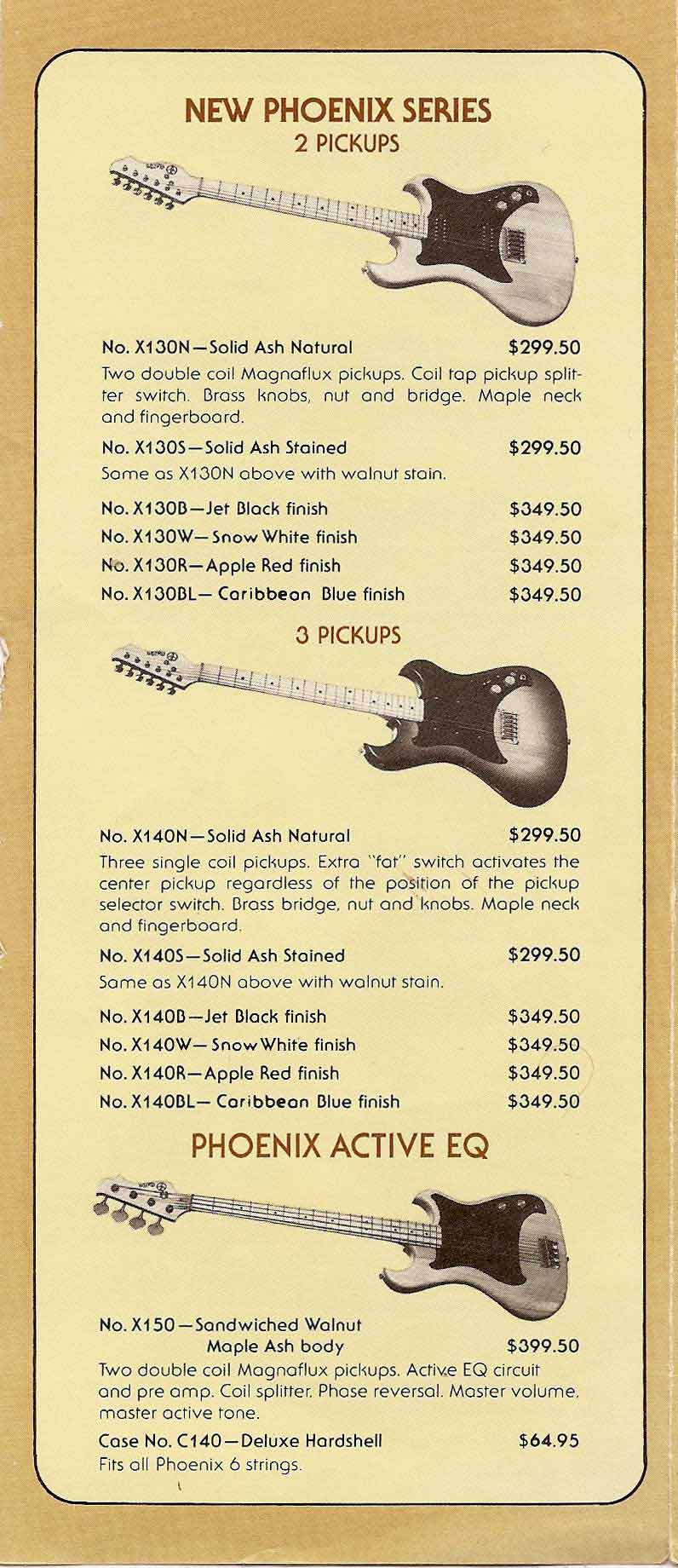 Back
Next