Wednesday, November 28, 2007, 12:25 PM -
Models
Bolt neck double cutaway with ash body, maple neck, chrome hardware,and dual humbuckers with coil tap toggle switch.
First Series:
X135G Green
X135C Champagne (gold)
X135P Purple
X135B Brown
X135S Silver
Second series:
X135NA Natural
Third Series (Westone Spectrum ST):
X135BK Black
X135R Red
X135W White
The first series was a deluxe version of the X130 with special metallic paint and black pickguard like the X130, brass nut, brass hardtail bridge with strings through body, brass knobs.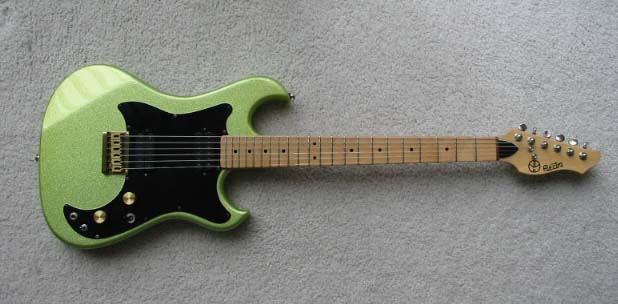 Most had a brass '1982 commemorative anniversary' plate on the back of the headstock with an additional serial number.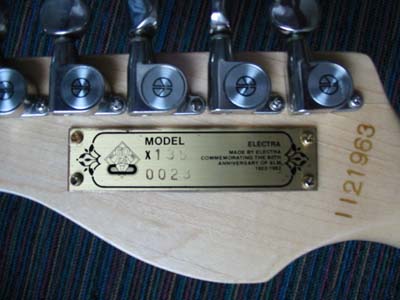 Pictures above courtesy of Darren Costello.
The second series was almost a different model entirely- instead of a pickguard, it had pickups mounted flush against the body, like all Phoenix models to follow:

In 1985 the third X135 series appeared with a Bendmaster bridge, under the name Westone Spectrum ST (standard), first only in black, then in 86 red and white were added. Through these three series the X135 became the longest-running model of the Phoenix/Spectrum family.
Back
Next