Wednesday, January 23, 2008, 06:18 PM -
Models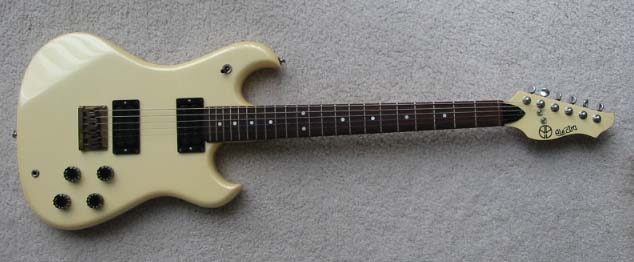 Bolt neck double cutaway with maple body, maple neck, rosewood fingerboard, chrome hardware, brass nut and brass hardtail bridge, two humbuckers with four knobs (V-V-T-T) with pull-switches for coil tap and phase reverse.
X155 (H-H)(pearl white)
With so many Electra Phoenix models already available, itís hard at first to see why the X155- a white two-pickup guitar- was so special, although the pearl white finish does have a gorgeous butter cream quality to it, which it shared with the X1PW which appeared at the same time. Like other special 82 models, the X135 and X145's, it carried a special plate on the headstock with an additional serial number whose significance is not known.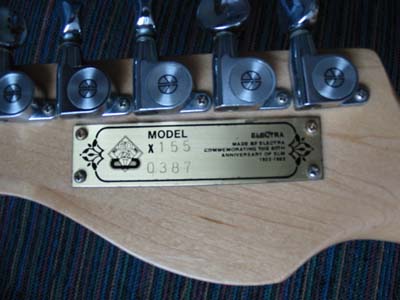 Above photos courtesy of Darren Costello.
The X155 was the first to carry many new features which would become standard for the entire Electra Phoenix line. Instead of a pickguard, it had pickups mounted flush with rings into a painted body. It used a four-knob arrangement (ĎLP styleí) to control the pickups, and had notched speed knobs instead of the brass knobs of previous models. And the body, instead of ash, was maple, whose hard resonance brings a bright singing tone.
In 1982 this was the time when New Wave and Punk were knocking at the door of mainstream awareness, driving out the last vestiges of seventies mellow. The X155 was a golden white harbringer of the styles that we recognize today as 80ís. From here on out, with only a few remaining exceptions, Electra Phoenixes had maple bodies in colors like white and red and black and green, with contrasting dark rosewood fingerboards, a clean look pioneered by the X155.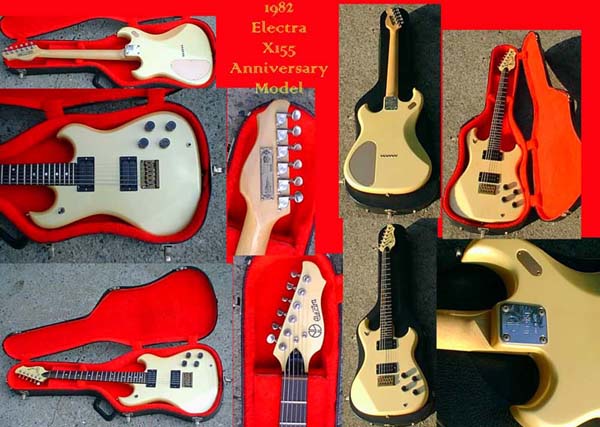 Back
Next