Wednesday, January 23, 2008, 06:38 PM -
Models

Bolt neck double cutaway with maple body, maple neck, rosewood fingerboard, black hardware, graphite nut and Bendmaster FT two-post bridge, locking nut, one humbuckers, two single-coil pickups with three pull-switch knobs (V-T-T) for coil tap, fat (center on) and phase; and 3-way selector switch.
X190SS (H-S-S)(Silverstone= metallic bronze)
X190BL (H-S-S)(Blue Burst)
X190BR (H-S-S)(brown)
X190JB (H-S-S)(Jet Black)
The X190 was the answer to all those (and there must have been at least a few) who argued that the X185 and X189 were too complicated and unfamiliar what with their H-S-H and all those knobs. The X190 offered much of the same range in what today we would call a superstrat configuration, which made all kinds of sense in a day when playing lead guitar meant all kinds of shredding.
The X190 essentially replaced the X175 by adding that additional humbucker to the X175ís S-S-S. Both share the non-strat Electra Phoenix 3-way switch for bridge and neck pickup and fat switch to turn the middle pickup on.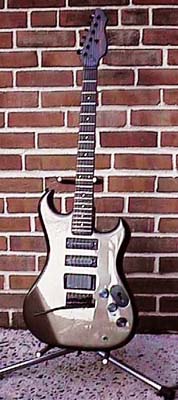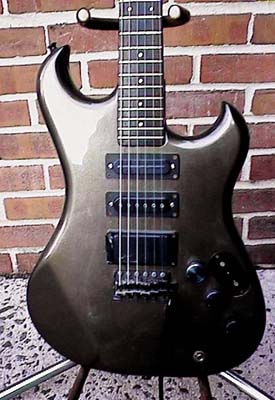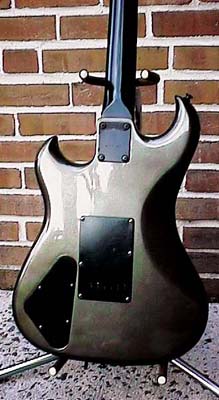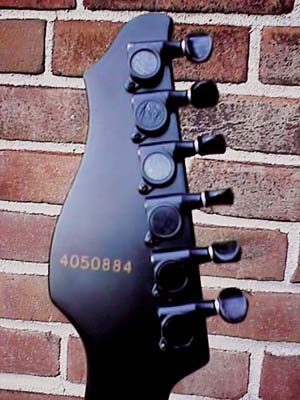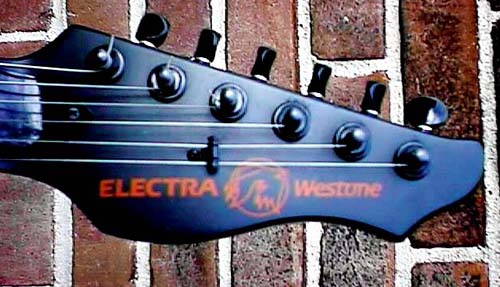 The above pictures were identified in the old Electra site as an X180, but no mention of an X180 is in any pricelist, and it is believed to actually be an X190. Note the original pickups have been replaced in this example.
Back
Next